Our Services & Relationships
From Buffalo to Syracuse, NY, Innovative Property Services LLC (IPSL) works in cooperation with regional and local retail clients through site selection, lease/sale negotiations, permitting and the construction process to successful store openings.
We have created long-term, well-respected relationships with sophisticated and local developers and landlords for the past 25 years.
IPSL also has the in-house ability to provide our clients with custom retailer mapping and demographic reports.
It is the combination of market knowledge, established relationships and integrity that has magnified us on the retail real estate map.
Tenant & Landlord Representation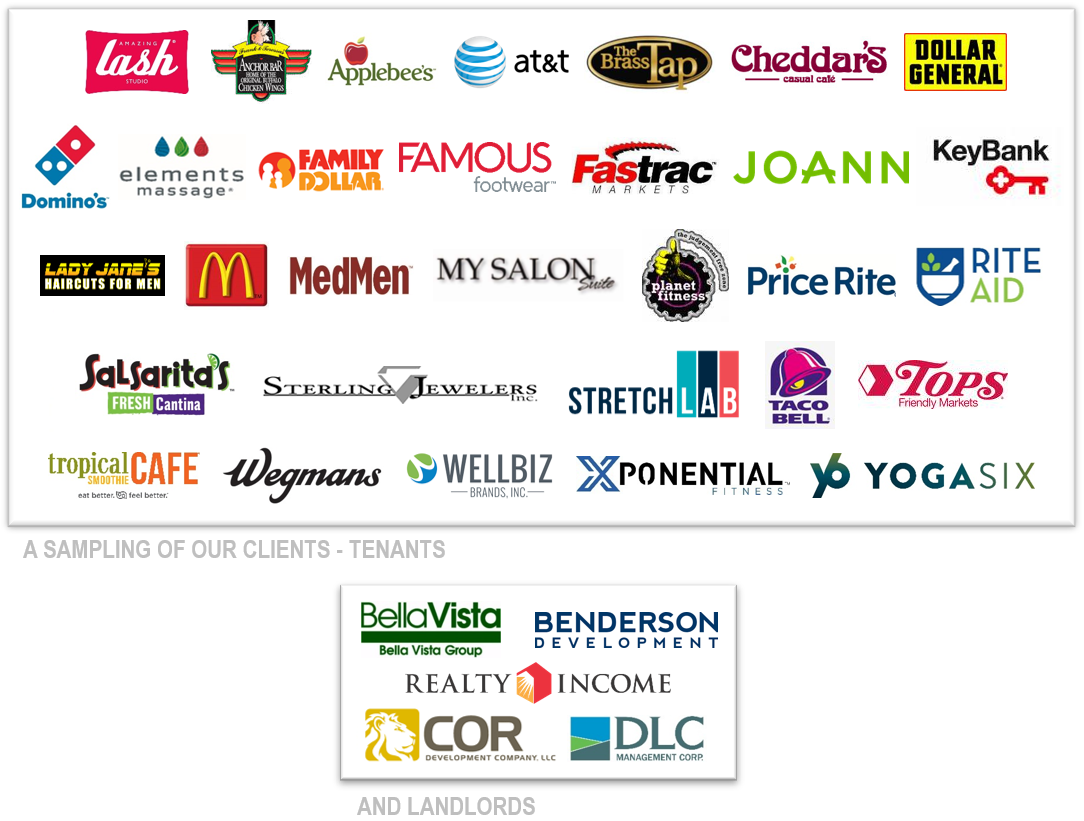 We are Proud of our Relationships with the following Companies
AAA Travel Agency
Amazing Lash
America's Best Contacts & Eyeglasses
Anchor Bar
Applebee's Grill & Bar
AT&T
AURA salt cave & spa
Benderson Development Co.
Brinker International
Cameron Group
Carquest
Cheddar's Casual Cafe
COR Companies
Curaleaf
Developers Diversified Realty (DDR)
DLC Management
Dollar General
Dollar Tree Stores
DRA Advisors
Dunkin Donuts
Elements Massage
Ellicott Development
Family Dollar Stores
Famous Footwear
Fastrac Markets
Georgia Carpet Outlet
Gian Properties
Goodwill Industries
Goodyear Tire
Hallmark Stores
Home Depot
Ideal Image
Ignite Fitness Holdings
JoAnn Stores
Key Bank
Krispy Kreme
Lady Janes
McDonalds
MedMen
Menchie's Frozen Yogurt
Mobil Oil
Mobility Works
My Salon Suites
Noco Energy Corp
Office Depot
Peebles
Pep Boys
Pepper Dining
Perkins Restaurants
Petsmart
Pizza Hut
Planet Fitness
Price Rite
Pyramid Brokerage Co.
Quiznos Sub
Realty Income Corporation
Rite Aid
Rudco Properties
Salsarita's Fresh Cantina
Sovran, Inc
Sterling Jewelers
StretchLab
Sunoco / Sun Oil
Taco Bell
TGI Friday's
The Benchmark Group
The Brookhill Group
The Summit FCU
Tim Horton's
Tops Market
Tropical Smoothie Cafe
Valvoline
Vornado Realty Trust
Walmart
Wegman's Food Market
WellBiz Brands
Wendy's International
Widewaters Group
Wilder Companies
XPotential Fitness
Yogasix
Zamias Services
. . . and more.